Our story
Physiotherapy is a very wide field of action aimed at protecting, maintaining, re-establishing or increasing functional capacities. Health professionals need access to high-quality products that combine efficiency, technical excellency and ease of use and are completely compatible with every movement made.
A Recognised Range
Found in most of the major French sporting federations, world-famous clubs and leading hospitals and rehabilitation centres, MEDICAFARM® products are welcomed for their reliability and great efficiency.
Our rigorous requirements mean that we occupy a significant place in the minds of masseurs, physiotherapists and health professionals.
The MEDICAFARM® brand, from Laboratoires INELDEA, has been specially perfected to meet the needs of health professionals in every way and to offer them:

Choice
Natural, innovative, high-quality products
Products formulated using the best possible combinations of active plant ingredients, selected for their recognised properties.
Natural and biological products with suitably adapted galenical forms: massage creams, care oils, cold products, gels, clays, balms etc.
Specific care gels that can be used in contact, massage or wrapping processes.
High-tech and hygienic products, especially the Airless Bottle*
Products that combine efficacy, high-tech and ease of use
Textures studied with professional use in mind: fluid, smooth and film-forming creams, free of grease, with good glide and skin-nourishing properties.
Water-soluble gels that penetrate rapidly. Do not stain or stick and respect the skin's pH.
Natural and gentle scents that leave a pleasant perfume on the skin without being heady during treatment.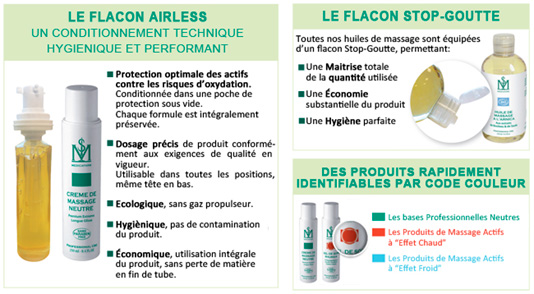 Quality
Products of 100% natural origin, put together using the best active plant concentrations and 100% pure essential oils, without paraben, colouring, genetically modified substances or ingredients of animal origin.
Products that have been tested for good skin tolerance.
Products that are designed for professional use and are being continually improved and adapted.
Practical packaging that has been studied for all types of use.
Guarantee
The MEDICAFARM® range of products, from Laboratoires INELDEA, are made in France under Quality Assurance, in accordance with current regulations.
Laboratoires INELDEA benefits from ISO 22 000 certification.
The ecological and biological care products are certified by ECOCERT.