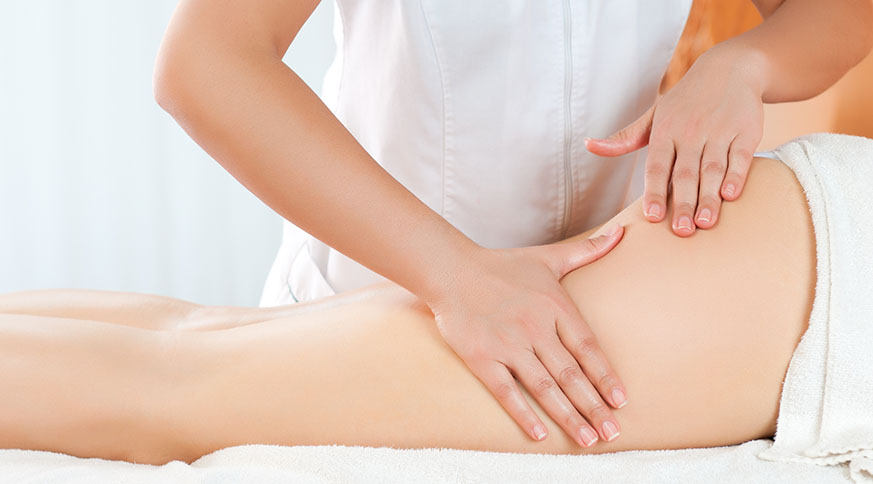 Physiotherapy to help slimming
Whether kneading, manual palpation and rolling or lymphatic drainage, the aesthetic side of physiotherapy is hugely popular with patients.
The nature of the cellulite from which a patient is suffering dictates the techniques adopted to eliminate it. People anxious and concerned about their appearance prefer to entrust their bodies to a professional, a masseur-physiotherapist.
Adipose cellulite
This is caused by a diet too rich in fats and sugars. The energy not burnt up by the body is stored and over time transforms into cellulite, which builds up easily in the thighs. The best methods of beating adipose cellulitis is kneading, in order to detach the fat cells that have become encrusted under the skin, from the knee to the upper part of the thigh.
Fibrous cellulite
This is characterised by an orange-peel appearance. It appears following breakdown of the collagen that surrounds the fat cells. Because of this breakdown, fat cells become trapped under the skin. To combat this kind of cellulitis, there is nothing better than the palpation and rolling technique. This massage method helps free up adipose cells.
Aqueous cellulite
This is generally caused by poor lymphatic circulation and a tendency to retain water, and can occur even in slim people. This type of cellulite is often accompanied by heavy legs and swelling. It is often found locally, in the ankles, calves and thighs and even in the arms. Lymphatic drainage will stimulate blood circulation and help reduce the orange-peel effect.

La Crème Réparatrice Raffermissante

Specially designed to activate epidermal regeneration, Firming and Reparation Cream is ideal for post-traumatic, prenatal and postnatal massage and body and chest care.
In particular it helps reduce scars, stretch marks and other marks, and also maintain skin elasticity.
Rich in organic silicon (an active ingredient involved in synthesis of collagen and elastin fibres), this cream helps regenerate the epidermis and in particular is essential for maintaining skin tone and elasticity. The Firming Cream also contains wheatgerm oil, almond butter and vitamins, all of which are of additional value in combating the effects of ageing and loss of skin elasticity. Highly fluid and appreciated for its excellent glide, it does not stain or stick, respects skin pH and has excellent skin nutrition properties.
Did you know?
Reduced silicon levels with ageing is sadly unavoidable. It can reach -80%, especially in the skin and arteries, and is most pronounced after menopause in women.